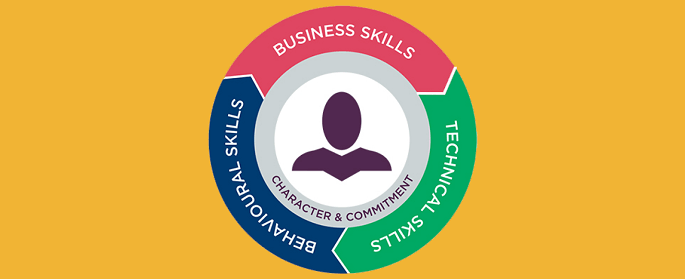 The skills you need to be a successful treasury professional are outlined in the ACT Competency Framework, which sets the global treasury standard. As the chartered body for the profession, this framework defines the must-have technical, business and behavioural skills and competencies you need to be recognised as a well-rounded treasury professional. ACT qualifications are a recognised way of building accredited skills.
TECHNICAL SKILLS
The expertise to shape and enhance corporate strategy and business growth.
For example, you could be required to:
Manage the business's cash flows and liquidity by making sure it has enough money to pay its bills and meets its short and long term objectives
Manage investments, this includes handling surplus cash and borrowing requirements
Identify, assess and manage financial risks. Business leaders need to think about what could go wrong with their plans and part of your role is to help them do that
Raise money to fund new business initiatives and put funding solutions in place so money is available whenever it's needed
Be involved in mergers and acquisitions. This includes raising capital and assessing the associated risks and opportunities
Monitor external market conditions, determine how they may impact the business and plan accordingly e.g. are interest rates rising? How volatile are foreign exchange rates?
Stay up-to-date on accounting rules, tax and regulation and how they may affect the business and your treasury activities
Develop the financial strategy and policies to support business objectives.
BUSINESS SKILLS
How you use your treasury knowledge and experience to work with and communicate with a range of stakeholders to meet the business's treasury objectives.
For example, you'll need to:
Be a confident communicator when talking to key stakeholders both inside and outside the business.
Be the main point of contact when talking to banks, credit agencies, investment analysts, consultants and regulators etc.
Collect, analyse and translate data into easy to understand information to help with problem solving and decision making across the business.
BEHAVIOURAL SKILLS
How to be a commercially driven professional who is accountable for your own actions, has persuasive influencing skills and can work effectively as part of a team.
For example, you'll need to:
Persuade others in the business to support a particular idea or plan of action which could add value to the business.
Work closely with people from across all parts of the business to ensure they have the money needed to fund projects.
Work as part of a team to achieve both the team and business objectives.



Want to learn the skills required for a career in treasury and cash management?
Choose from:  

• eLearning courses: 45-90 minutes to complete, available online 24/7. 

• Training courses: live skills-based training sessions.   

• Treasury and Cash Management qualifications: internationally recognised courses from entry to master level. 

All our courses will provide you with valuable knowledge as well as easy-to-share digital credentials to demonstrate your learning achievements.