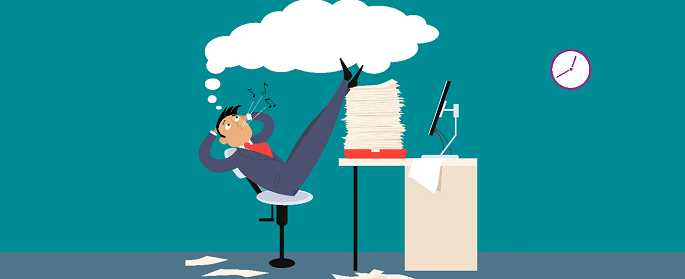 Procrastination is the death of all achievement! Explore these seven top tips to stop stalling.
Isn't it amazing that when you sit down to study you'll suddenly find an excuse to do just about anything! Your work emails become the most important thing you've ever read, Debbie's baby photos on Facebook are suddenly intriguing, oh of course it would be mean of you not to take Rufus for a little walk, maybe a quick snack would help, oh wait James sent you that hilarious video of a cat in a box, let's just watch that for a minute…
Sound familiar?
Thought so. Fear not though, follow these great tips for putting a stop to your procrastinating ways…
1. BREAK THINGS INTO SMALL CHUNKS
Trying to learn too many things in one go is subconsciously overwhelming. By focusing on one small part, it's easier to actually finish something.
2. CHANGE YOUR ENVIRONMENT
An environment that inspires you to learn one day, might not work the next, switch up your learning space.
3. MAKE MINI DEADLINES
Just thinking of your assessment date as your deadline is a bad idea. Break up your learning into mini deadlines.
For example: by next Tuesday at 2pm you will have completed the third section of the first unit. 
(It's also very satisfying to cross off deadlines once completed. Just saying)
4. HIDE DISTRACTIONS
Disable email popups when studying online, turn off things like Facebook messenger and news alerts. If they're not popping up demanding your attention, you're less likely to think about them and focus.
5. HANG OUT WITH INSPIRATIONAL PEOPLE
Check in with your fellow students, in person or on the student forum. How're they getting on? This can often help you focus and get motivated.
6. THERE IS NO SUCH THING AS THE PERFECT TIME
Learning something small for five minutes while on the train to work, or listening to a learning podcast while grocery shopping can be just as effective as traditional study methods. Just watch where you're going and look out for oncoming traffic though please!
7. JUST DO IT
In the end, all the strategizing, hypothesising and planning won't make any difference if you don't just get on with it.
Remember, no-one has ever procrastinated their way to success, so stick with it - you can do it!