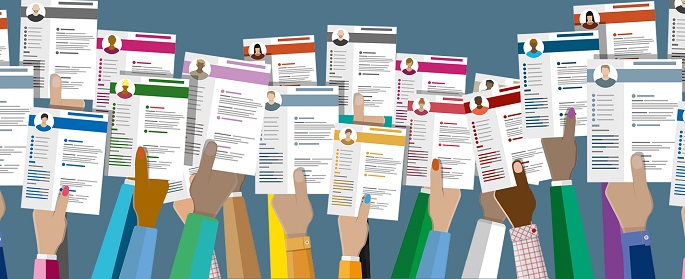 If a job role has opened in your organisation that you would like to apply for, look at these tips to help you get it. The uncomfortable truth is that often the employer focuses on the strengths of the external candidate and the reasons why they shouldn't give you an internal promotion, so you need to get prepared.
1. DON'T ASSUME YOU'LL AUTOMATICALLY GET THE JOB
Hiring current employees may be faster and cheaper for a company, but this doesn't mean you'll be offered the role to save time and cost. You will still need to compete against external candidates who may come prepared with fresh ideas and more applicable experience. So, rule number one: treat this application as if you were an external candidate!
2. DO A CAREER AUDIT
Consider carefully how this role will meet your future career aspirations. It's ok that you might need development in some areas, but it's important to be open and honest with yourself. If you are, you will find it easier to prepare examples of success, skill development through dealing with challenges and areas where you're looking to grow.
3. RESEARCH YOUR COMPANY
This might sound ridiculous, but think about it – when was the last time you really looked at your organisation's website? When last did you really think about the company vision and mission? How is your organisation positioned in the market place and can you demonstrate an understanding of what the company's overarching objectives are? External candidates will be going out of their way to find out what they can, so it's your perfect opportunity to demonstrate your deeper understanding of the businesses goals and how you can help achieve them.
4. FIND OUT HOW THE BUSINESS PERCEIVES YOU
Time to have a frank chat with some of your colleagues. We don't mean your favourite work friend who'll just tell you that you're brilliant, but rather find some who are able to offer constructive feedback. When people give you feedback that may be perceived as negative don't be defensive or angry with them. Your goal is to get honest opinions, so that in the interview you can dispel any misconceptions. 
5. PULL TOGETHER THE POSITIVES
Next up is to focus on the good stuff. Gather feedback from colleagues about your strengths. Do the same from your clients, customers or third-party relationships. Try not to be backwards about coming forwards - this is your opportunity to sell yourself.
6. GET YOUR CV UP TO DATE
You may think people in your company know about your achievements, but they might not, so make sure all your key accomplishments are in there. Being prepared will help you feel confident in the interview.
7. PREPARE YOUR QUESTIONS
External candidates will be asking lots of questions about the job role, its challenges, performance expectations and the team. This helps them demonstrate genuine interest and opportunity to talk about the ideas they can bring to the table. Do the same! The biggest mistake you can make is to presume you know it all. Be prepared to talk about what you'll do with the role in the next three months, the next six months and the next twelve months. Your advantage here is your 'insider knowledge' so use it.
8. USE YOUR SECRET WEAPON
You're in a position to be able to figure out the pros and cons of hiring you versus hiring an external candidate. For example, you have built relationships already and can leverage those to succeed or you can prepare examples of how you'd look to improve certain processes.
9. WHAT WILL HAPPEN IF YOU DON'T GET THE ROLE
Often with internal interviews you will be asked what you will do if you are not successful in getting the position. The best way to answer is to say your plan is to request feedback at the end of the interview process. This way you can get insight into where your perceived skills gaps are and then seek to develop them so when opportunities like this arise in the future. Your employer will view this positively. Don't stand in the kitchen and threaten resignation to anyone who will listen – it won't do you any favours in the long term.
10. BE PROFESSIONAL AT ALL TIMES
Yes, you might have had a pint with your potential new boss after work last Thursday, but it's important to know that they do not want to be seen as being biased. Keep the interview process formal, make an effort with your appearance, show respect and demonstrate in all regards that you are taking this seriously.
With a little planning and keeping a sensible head on your shoulders, that job could be yours. Good luck!