Yazzy Tanjutco Moya, corporate treasurer at Creative Artists Agency, has travelled the world for her career. But she has never stopped learning.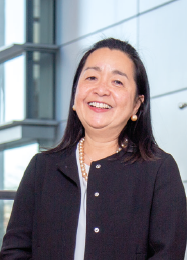 Yazzy Tanjutco Moya, corporate treasurer at Creative Artists Agency (CAA) in Los Angeles, California, has a track record that proves how truly global work in treasury can be. Over her 30-year career, she has made nine intercontinental moves and accrued experience across an enviable set of industry sectors. Moya has had considerable experience working in Asia, beginning with a stint in Tokyo, Japan, at IBM World Trade Asia Corporation in the late 1980s, when the technology giant was testing its reach in the region. She has also presided over a development company in Subic Bay Freeport Zone in her native Philippines. Perhaps most notably, however, was the period she spent as CFO of Save the Children Japan, securing the flow of funds that would underpin the charity's emergency response to the devastating 2011 earthquake and tsunami that destabilised the country's north eastern region and left thousands homeless.
RETURN TICKET TO ASIA
Moya graduated with a degree in engineering in Manila, and took up a position with ABN AMRO in Amsterdam straight out of university. It was a job that would prove to be a springboard into treasury. A business trip to Asia resulted in a meeting with the corporate treasurer of IBM World Trade Asia Corporation, who offered her a treasury role. Situated in the business district of Tokyo, the IBM Asia hub provided a fascinating vantage point for a young professional. Japan's success was technology-driven, just as China's is today.
"At that time, Tokyo was a big draw," Moya says. "People wanted to be in Tokyo to figure out how it was that a country without a lot of natural resources could
be such a powerhouse."
In the late 1980s, with mainframe computing and PCs holding sway, technology giants were going head-to-head for market share in a competitive environment. As well as the immense sales drive, IBM was highly acquisitive. The work ethic was, as Moya says, unbelievable. Japanese employees would start early, finish late and return to work after dinner. However, it remained tough for women to reach leadership positions. The only way to break through was to learn Japanese, and in doing so Moya forged relationships with revenue generators and senior managers.
The role also taught her the fundamentals of treasury. "That's where I learned how to mitigate risks – sovereign, counterparty and interest rate risk," Moya says. "It was really about trying to understand the business environment we were competing in and then providing the salespeople in our business units with what they needed."
There was also the problem of protecting the value of cash, an issue she has returned to throughout her career. "In 1988, the Japanese yen was very strong against the dollar – but with sales coming from the Philippines, Malaysia or Indonesia, we had to make sure that we protected the value of the yen, so we did a lot of hedging." That was the beginning of her education in derivatives. IBM was also big on performance indicators and dashboard metrics. Early on in her career, Moya learned to use key performance indicators that were well-defined, clearly measurable and frequently circulated to key stakeholders. "Communicating the metrics that define success to teams enables them to determine whether they are on track, and empowers them to modify their plans accordingly. IBM's ethos was all about making data accessible from the business units to the headquarters. Even now, I still appreciate that discipline and wish that companies in the 21st century were as transparent."
COKE IS IT
Moya's next career step was a move to the US, after the associate treasurer at IBM suggested graduate school. Moya attended Fordham Graduate School of Business in New York. Instead of working part-time with IBM, she decided to attend fulltime, graduating within a year. Seeking employment in 1990 would prove to be tough. While her fellow graduates were looking for appointments with blue chips and multinationals, Moya found herself looking for the greatest learning opportunity. Turning down a job offer from JPMorgan in Japan, she took up a position at Coca-Cola's corporate headquarters in Atlanta, which would turn out to be one of her best career development experiences.
Moya worked closely with senior leadership, including the late CEO Roberto Goizueta, who was involved in the share repurchase programme of the company at that time. He set about turning around the company from a sprawling giant that had been losing market share over a 15-year period into a lean, value-focused operation. Goizueta turned out to be an inspirational colleague. An engineer
himself, he hailed from Cuba, emigrated to the US and worked his way up from
the factory floor to become the leader of a global corporation.
"Nothing was impossible for him, and not just in terms of sales – what he did in terms of streamlining processes and penetrating new markets was formidable. What I learned was to look for the lowest cost of capital and put it into acquisitions or invest in new markets. Where can you put your money to work?" Moya says. "I soaked up everything I could learn about treasury – from doing rolling three- and five-year business plans to trading [commercial paper and FX], among others."
TIME TO GIVE BACK
After six years of corporate life, Moya decided it was time to share what she had learned about treasury in a not-for-profit environment and joined Save the Children. Her relationship with the charity would last over 15 years, albeit interspersed with other job moves. Her experiences at Save the Children, however, still required adherence to the treasury principles she had previously learned.
"My job was to make sure every dollar of contribution was spent according to what the donor designated it for. I basically followed the money. So, if there was an emergency response, I was there. I travelled to Haiti after the earthquake, to Ethiopia during the hunger crisis, and to Bangladesh and Pakistan throughout the floods."
Besides following the money, Moya also actively participated in teaching finance to non-finance leaders across the globe, mainly to bridge the gap between finance and programming.
"Decisions made in the field without properly understanding the financial implications could have led to disallowed costs by donors and less money for the children and communities we served," Moya says. As director of global treasury at Save the Children, she oversaw the introduction of modern and rigorous processes, and established rolling cash-flow forecasting that enabled field offices to predict cash needs accurately and in a timely way.
She also streamlined bank accounts from 1,000 down to 300, and introduced just-in-time delivery of funds to the charity's country offices. "Country offices were used to being funded based on their budgets, whether they were in a risky area or not," Moya says. Just-in-time funding allowed a centralised treasury to invest and protect against currency movements, which could be stark, particularly in disaster-hit territories, such as Indonesia following the 2004 tsunami. Although country office directors initially pushed back on this different approach to cash management, Moya would eventually roll out just-in-time funding to all 40 US Save theChildren locations.
It was very important for Moya to have a good relationship with not only internal stakeholders, but also donors. The better donor funds were managed, the more
donors would trust and give for Save the Children's mission.
SUBIC BAY METROPOLITAN AUTHORITY
While she would return to Save the Children later in her career, Moya moved back to the Philippines in 1996 when her husband secured a job in Manila. Her role as president of Freeport Services Corporation in Subic Bay Freeport was indirectly facilitated by an introduction forged when she worked at Coca-Cola. Goizueta hosted a breakfast event for the delegation from the Philippines (one of the top markets of Coca-Cola), including the then president of the Philippines, Fidel V Ramos, and the then chairman of the Subic Bay Metropolitan Authority, Richard Gordon. During that event, Moya met Gordon, who was recruiting young staff for a development corporation to open the Philippines to international trade and compete with Malaysia and Singapore for investors. "Singapore was his benchmark," Moya says. "Coming from Coca-Cola and Save the Children, I still wanted to learn new things in a different industry from a position of leadership. Gordon was hiring, Subic Bay was his home, and he was very passionate about ensuring it made its mark."
Again, Moya found herself working for an energetic boss with a strong vision. The 1996 Asia-Pacific Economic Cooperation Summit was held in Subic Bay FreeportZone and hosted by Gordon. Moya
worked with him to make the Freeport Zone attractive to tourists and overseas multinationals alike.
In the years that followed, Moya would return to Coca-Cola, this time based in London. She then moved back to the Philippines as CFO of a Philippine-Japanese construction company before heading back to the US in 2006 to Save the Children.
KON'NICHIWA, NIHON
In 2011, Moya's willingness to put herself on the front line was put to the test. A 9.1 magnitude earthquake hit Japan, followed by a tsunami. The effects were felt around the world. Nearly 16,000 people died, around 120,000 buildings were destroyed and thousands were displaced. The tsunami caused a cooling system failure at the Fukushima Daiichi nuclear power plant, which released radioactive material into the environment. Japan, famously self-sufficient and previously a donor rather than a recipient of aid, had to open its doors to the international community for help.
Given her previous stint in Japan for IBM, Moya was prepared for her role on the front line, setting up a financial infrastructure to deliver funds and aid where they were needed. She responded by moving to the disaster area with a colleague initially for two-week stints, calling and FaceTiming her children from remote and vulnerable areas.
"I wanted to [move] for a lot of reasons. We were literally there during the first few weeks after the earthquake hit. The devastation was unbelievable. I still have pictures in my mind. After three months, you begin to see how powerful a human being is," Moya says. "The military rebuilt the airport. The government mobilised the prefectures. We provided childfriendly spaces so kids could play, socialise and learn as they rebuilt their lives, connected kids to their parents and began to establish a network for aid."
Save the Children was able to raise significant funds for this emergency.
"The CEO of Save the Children Japan and I would meet with donors. We received money from every multinational for whom Japan was a market. My job was the same – account for and communicate to donors where their money was going."
CREATIVE JOURNEY
In January 2018, Moya returned to the corporate world when she began as corporate treasurer at CAA, one of the leading entertainment and sports agencies in the world, at its headquarters in Los Angeles. The focus was similar – ensure the best way to manage cash by minimising risks and maximising returns for private equity investors, as opposed to donors and aid agencies. "What I like about working at CAA is the feeling of positivity and energy that you feel as soon as you walk in. It inspires and motivates you to do your best each day," Moya says.
"There is a very collaborative spirit that is promoted and encouraged. At CAA, it's most important to be a team player and be the best you can be."
In her 10 months thus far at CAA, Moya has embraced the spirit of helping others succeed. According to Moya, the difference between a great team player and a great leader is recognising how you can relate to others' reactions and behaviours. "CAA is a leader in our field because our partners have led the team to places where we might not otherwise have gone before. Be adventurous. Be creative. Take the road less travelled, because it can lead you to truly amazing opportunities and experiences. Step out of your comfort zone and take a trip of discovery."
Every month during all staff meetings, CAA executives from different divisions are given a chance to share their moments of triumph, lessons learned and discoveries with their clients or business partners. Moya's environments and geographies may have been diverse, but there have been commonalities throughout. "It's important to be open to opportunities, to try new things and to never stop learning," she says. "If you don't, you're going to get left behind."
WHAT I LIKE BEST ABOUT TREASURY IS…
I appreciate how treasury has become a true strategic partner, because you get to understand the business. At the heart of treasury management is understanding and managing the risks that are inherent in any company. A good treasurer has not only financial capabilities, but also the managerial courage and breadth of understanding to do bigger things by helping others succeed. At the end of the day, you must love what you do and lead by example. What has given me a feeling of fulfilment and achievement is knowing that I have added value – either to another person's life or to my company.
Yazzy Tanjutco Moya, Corporate Treasurer, Creative Artists Agency,