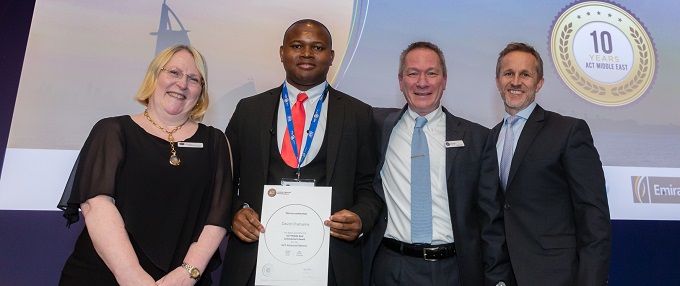 November 2018
A CAREER ON THE RISE
Currently working in a treasury managerial role, David Chatsama's career in treasury and finance is truely inspirational.
David's current role entails risk management, treasury performance management, treasury strategy, debt portfolio management, treasury management systems and their interaction with other systems in the bank as well as some aspects of relationship management.
RISKY BUSINESS
David views risk management from the eye of a corporate treasurer where the taxonomy appreciates the investors' expectations by considering both business and financial risks. His valuable advice is to approach tasks by adopting a holistic risk management view that takes business risks, financial risks and operational risks together and consider the interaction of all these risks including the crossover effects. He then zeros down to concentration on the financial risks breaking them down into financial market risks (interest rate, FX rate, commodity), liquidity risks (funding risk and market risk) and credit risk (counterparty risk, sovereign risk and pre-settlement risk). As David says, "I coordinate the asset and liability management committee activities and ensure that the key financial risk matters are tabled in the meeting with remedies and strategies followed through to the desired mitigation of the bank's risks in line with the bank's risk appetite. I also monitor the treasury key risk indicators (KRIs) and key control indicators (KCIs) and ensure that they constantly express the bank's risk appetite as defined from time to time." The other key aspect that Chatsama gets involved in, is the setting and review of the bank's risk management policies and always endeavour to see that the policy setting and review process embeds the best practice policies that include benchmarking, key performance indicators, clear policy objectives, responsibilities among other qualities. His role in treasury risk management is essential and contributes the financial and strategic soundness of the institution.
"I am also responsible for measuring and monitoring the treasury performance through the balanced scorecard approach where I am involved in setting the key performance indicators (KPIs), targets and measures and review them on a periodic basis to ensure treasury performance is in line with the bank's strategy in the short, medium and long term perspective. The KPIs ensure that treasury performs its core activities of liquidity and cash management, capital markets and funding, risk management, treasury operations and relationship management."
Treasury takes care of the debt portfolio that is in excess of USD 9bn and David has the privilege of managing the debt portfolio and advising of various key issues around debt portfolio management such as how to diversify the portfolio by source, by currency and by geography, fixed/ floating profile, covenant negotiation and management, and analysis and reporting. One of the key metrics that he looks after in treasury is the cost of funds and analysis of the cost of funds from various dimensions and make recommendations on how to achieve an optimum cost of funds that boosts the bottom-line. Through the analysis, he notes that treasury gets to borrow from the available sources and apply various strategies such as swapping to the right currency or interest rate profile and achieve a balance between availability, cost and return. The follow up link on the cost of funding is the impact on the pricing of the assets created, which he also looks after through maintainence of the bank's pricing model as well as pricing advisory to the various divisions within the bank. The pricing that African Export Import Bank encourages is a risk based pricing which ensures that all the risks are appropriately covered with the pricing process.
The treasury strategy follows and supports the bank's financial and business strategy and David is involved in the treasury team's development of treasury strategy. "The strategy involves setting policies and plans that ensure that the bank is well funded, has sufficient liquidity for its current and future needs, has well managed and mitigated risks through both treasury and commercial responses which include natural hedges and financial hedging contracts. Treasury makes use of frequently reviewed funding plans, rolling cash forecasts, sound and state of the art treasury management systems which are kept up to date with technology updates. Treasury also keeps a close interaction with all business and other units in the bank to ensure that the corporate context and relevance of treasury is maintained while it also works as an internal advisor of financial and risk related matters. My experience with the ACT has made it easier for me to contribute positively to the development and execution of the treasury strategy within my institution."
Chatsama's role also envisages management of the treasury systems from selection of appropriate treasury management systems, implementation, testing, and deployment into production as well as on going maintainence. He plays a key role in treasury learning where he endeavours to ensure that knowledge of the systems and treasury concepts is shared by the treasury team. "In my organisation I have had the privilege of being a champion in the implementation of SAP financial accounting and control system (SAP FICO) and Ambit Quantum treasury management system (Offered by FIS, formerly SUNGARD) which have all been well implemented and led to the transformation of the bank's information processing, management and decision making. I also work with key systems such as Bloomberg professional, swift among others."
Condensed with various activities across the treasury spectrum because of the size of their treasury team is small,the team takes the opportunity to rotate into activities across front office activities, middle office activities and some treasury operations activities. This has been a valuable learning experience for David as he emphasises, "Because of this, I have been able to get all round exposure into corporate treasury activities and this has enriched my profile immensely."
DISCOVERING A CAREER IN TREASURY AND FINANCE
"I have always been interested in a career in finance and accounting when I was young and I had to satisfy my passion by completing a bachelor of accounting honors degree from University of Zimbabwe in 2003. I then proceeded to the management accounting qualification which I believed was so exciting and I completed my Chartered Institute of Management Accountants (CIMA) in 2010 and became a member is 2012. Till that time I have been working in finance in various roles as management accountant/ head of finance.
It was when I wanted to keep my continuous professional development (CPD) that I came across the ACT qualification and it lured my heart completely into a change of profession into treasury and I never regretted my decision from day one. I then started studying through the ACT's Certificate in International Treasury Management in 2012/2013 and I made my decision to become a treasury professional. My experience became life changing and it became more than just CPD into self-fulfilling profession with the ACT until I completed the MCT Advanced Diploma in April 2018.
David has worked with two different bosses, both in finance and in treasury who are ACT qualified and this has motivated him further in pursuing his studies. "The way in which they execute their treasury business is well informed and reflects the high value nurturing through the ACT discipline. In my organisation, treasury staff are encouraged to go for a treasury qualification of their choice and ACT qualifications have been recognised among the best options to pursue."
The ACT qualification transformed me from an accounting professional to a proud treasury professional with a passionate treasury mind-set that is set to think treasury think cash and liquidity management, think risk management and think strategy achievement.
David has found that his top level FCT membership and qualification supports all areas of his job role from strategy execution, to risk management, performance management and policy development and execution. "The ACT qualifications are rich in treasury fundamentals and principles, corporate finance and funding mechanics, risk management and treasury strategy. With the MCT qualification I am able to appreciate the corporate context of treasury, the development of treasury strategy and how it is linked to the corporate and financial strategy, the tactical treasury strategy as well as the operational aspects while I have the capabilities to inform the appropriate design a treasury structure to best execute the desired treasury strategy and corporate strategy." The advanced diploma helped David to understand the risk management discipline better. "I can interpret financial risks with a clear mind and I can advise on financial risk management and responses with boldness. I can better articulate treasury issues within the organisation and within other professional for a with ease and clarity that makes it easier for other colleagues to understand. I have been equipped with capacity to approach my work methodically and in a way that clearly adds value to various business scenarios and projects that I am involved in. The knowledge obtained from Act qualifications cannot be overemphasised, it's a benchmark for excellence in the treasury and finance discipline."
The FCT qualification is prestigious and is a symbol of success, achievement and excellence. It is not only about the letters after your name, it is the ability to back them up through the knowledge gained over the years to the satisfaction and admiration of the professionals that you interact with. The advice that you provide to management and other business units all speaks for itself.
TREASURY AND ACCOUNTANCY ARE THE PERFECT COMBINATION FOR CAREER SUCCESS
David is a qualified chartered management accountant who holds the ACMA/ CGMA designation. "CIMA highly recommends its members to pursue their continuous professional development through the ACT qualifications and I actually came across the ACT recommendation through the CIMA website back then. The management accounting practice and treasury practice complement each other and the outcome is a powerful treasury/ finance professional who becomes a utility resource within the organisation."
TIPS FOR SUCCESS
"Studying ACT qualifications is exciting, thrilling, fulfilling - but it's definitely not walk in the park! You have to dedicate yourself to many hours of study, revision, tutorials and presentations. You just have to be psychologically and physically prepared and let your family know that you are on a mission that will yield self-actualisation and bring rewards and joy after completion. Working and learning makes you realise that time is gold, and what you do with every minute matters. The greatest appreciation is that the material you will be reading is practical which you can apply to your work environment as you learn. This motivates you to read the next chapter and use the material in real life work environment. There is a temptation to quit as the load becomes overwhelming, but it is this pressure that gives you the drive to push to the last mile."
WHAT'S NEXT FOR DAVID
In Chatsama's words, "Being a member of the ACT makes you feel comfortable, and makes you feel that you have reached self-actualisation in the treasury profession. Using the designatory letters AMCT, FCT have been an inspiring experience in my professional life, not only to myself but to various colleagues who are already working hard to complete the same qualification and join the cohorts.
With FCT, you become confident to advice your management from a well-informed position. The qualification comes with armour and revelation of the strategic relevance of treasury within the organisation. My experience has been a revealing success at every stage of the ACT and has helped me to deliver the goods that enhance value within my organisation.
I am ready for the challenges in my career that allow me to put into deep practice the knowledge that I have gained from the ACT qualification, specifically the advanced diploma level which tackles treasury issues at a strategic level. I am ready to develop a treasury strategy that will transform the face of a treasury department and enhance the successful delivery of the corporate and financial strategy."