3 - 6 MONTHS

NO ENTRY REQUIREMENTS

ONE ONLINE ASSESSMENT
KICK-START YOUR EXCITING CAREER IN TREASURY WITH THE ASSOCIATION OF CORPORATE TREASURERS AND INCREASE YOUR EARNING POTENTIAL
Take your first step into the exciting world of treasury with the Certificate in Treasury Fundamentals (CertTF). Our entry-level professional qualification will equip you with the skills and knowledge to start your new career in treasury and corporate finance.
With online content and on-demand assessments, there has never been a better time to start your journey into treasury.
LEARNING WITH THE ASSOCIATION OF CORPORATE TREASURERS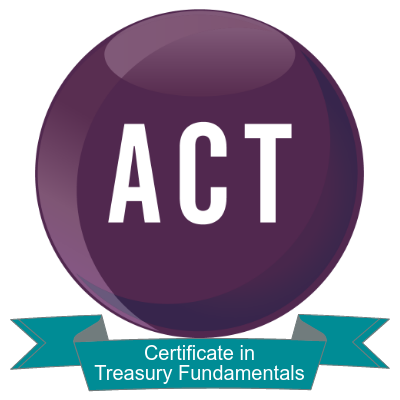 You will learn online with ACT Learning, the official study provider of the Association of Corporate Treasurers (ACT). The qualification is comprised of three units, delivered through the ACT Learning study site. You will be provided with study guides, webinars, podcasts, activities, progress tests and practice exams. From enrolment to assessment, your learning journey will be supported by our helpful Learning Team, ensuring you can make the most of your qualification.
Not only will you will earn an internationally recognised qualification from the only treasury body with a Royal Charter, you will be eligible to use the designatory letters CertTF after your name. You will also be awarded digital credentials that can be shared online or added to your CV to demonstrate your achievements and your commitment to learning.
---
WHAT OUR MEMBERS SAY
"
The Association of Corporate Treasurers qualifications have a proven track record for employers and help treasury professionals reach a level of technical knowledge to progress, as well as demonstrate a commitment to the profession.
"
Lynda Heywood, Group Treasurer, Tesco
"
ACT qualifications not only allow individuals to understand financial markets and the treasury role but also provide a solid toolkit for risk management.
"
Sergio Majolino, Air Products, Bank Accounting Team Leader for Europe, Middle East, Brazil and India
WHAT IS THE ROLE OF A TREASURER?
Learn about the role of a treasurer with Sarah Boyce and Naresh Aggarwal. Sarah and Naresh are both experienced treasurers and work as Associate Directors, Policy and Technical, for the Association of Corporate Treasurers.
---
READY TO START LEARNING?
Submit your details to download your free guide to a career in treasury and receive more information about our qualifications.